`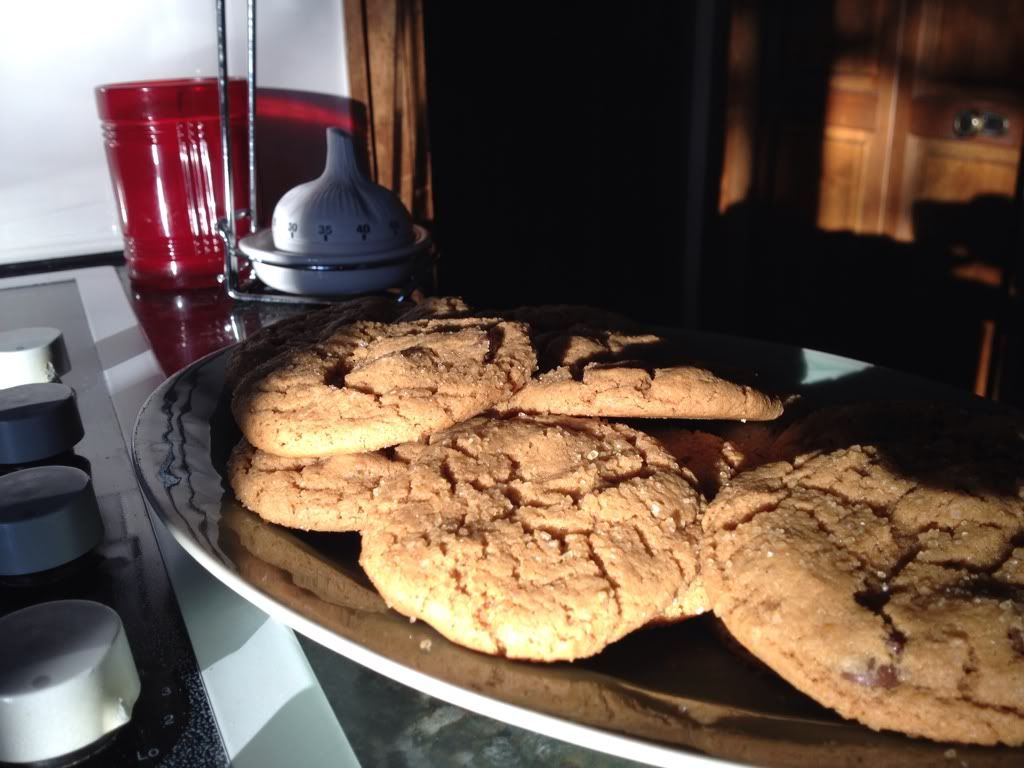 I've had people tell me that these are the best cookies they have ever eaten. They're a huge hit at the holidays, but they're so good you'll want to eat them all year round!
Ingredients
4 cups all-purpose flour, spooned and leveled
2 teaspoons baking soda
2 teaspoons ground cinnamon
1 teaspoon kosher salt
1 teaspoon ground nutmeg
1 teaspoon ground ginger
1/2 teaspoon ground cloves
1 cup (2 sticks) unsalted butter, at room temperature
2 cups packed light brown sugar
2 large eggs
1/2 cup molasses
1/4 cup canola oil
1/2 cup turbinated sugar (you can use granulated or decorating sugar, but turbinated suger has mollasses and thus is PERFECT.)
1 package nestle tollhouse semi-sweet chocolate chips



Directions
Heat your oven to 350° F. In a large bowl, whisk together the flour, baking soda, cinnamon, salt, nutmeg, ginger, and cloves; set this aside.


Using an electric mixer, beat the butter and brown sugar on medium-high until light and fluffy, 2 to 3 minutes. Beat in the eggs, then the molasses and oil. USe a stand mixer for this if you can, I've found so much beating sugar and butter together has really put a strain on my hand mixer. It looks REALLY gross at this stage, but don't worry. It'll get instantly better when you add the dry ingredients.


Reduce mixer speed to low and gradually add the flour mixture, mixing until just combined (careful not to overmix). Feel free to take a deep breath cause it smells SO GOOD! Mix in the chocolate chips at this stage.


Place the turbinated sugar on a plate. Shape the dough into balls (about 2 tablespoons each) and, a few at a time, roll in the sugar to coat. Place 3 inches apart on baking sheets.


Bake, rotating the baking sheets halfway through, until the edges are firm but the centers are still slightly soft, 16 to 18 minutes (I do 17 minutes and they turn out perfect every time). Let cool slightly on the baking sheets, then transfer to a wire rack to cool completely.


ENJOY.

Rating:


Ingredients:

2 cups all purpose flour
1/2 tsp. baking soda
1/4 tsp. salt
1 1/4 cups dark brown sugar, firmly packed
1 1/4 cup white sugar
1 cup salted butter, softened (MAKE SURE IT'S SOFTENED! It makes everything SO much easier!)
3 large eggs
1 cup Skippy! creamy peanut butter (I use skippy, but I suppose you could use Jiff or something else. Just don't use organic, because organic doesn't have as much sugar in it and tastes really different!)
2 tsp. pure vanilla extract
1 11 ounce bag of Reese's peanut butter chips ( I ALWAYS use Reese's! They are simply the best! the way they melt is just incredible.)
Directions:
Preheat the oven to 300 degrees.
In a medium bowl combine flour, baking soda, and salt. Mix well with a wire whisk. Set this aside.
In a large bowl blend the sugars using an electric mixer set at medium speed. Add the softened butter and mix to form a grainy paste, scraping the sides of the bowl. Add the eggs, peanut butter, and vanilla and mix at medium speed until light and fluffy. Add the flour mixture and mix at low speed until just mixed. Do not overmix! Quickly add the peanut butter chips and mix until they are all incorporated. Don't mix it for too long!
Drop by rounded tablespoons onto an ungreased cookie sheet, spaced fairly well apart from each other. They expand like mad when you cook them. Usually I need two cookie sheets! Bake for 18-22 minutes (I usually end up having to do more, but I start with 20 minutes) until cookies are slightly brown along the edges. IT says to transfer them immediately to a cool surface, but when I do mine they are always kind of gooey so I just let them sit in the pan until they are cool, then cut them apart with a metal spatula (Cause some will have inevitably merged together) and put them on a cool surface.
Enjoy~

Rating:




These are my favourite cookies to bake EVER. It's not exactly an easy recipe, but I love it, and everyone absolutely raves about the cookies! The recipe is originally from a certain cookie book (not naming names >>; ), but I adapted it slightly to better suit what I love in a peanut butter cookie [read: I added peanut butter chips >>]. I highly recommend using an electric mixer for this recipe. Blending the butter and sugars is almost impossible if you don't (trust me, I've tried)! I'm making these tomorrow night with my niece and nephew.
Current Location:

Home Sweet Home

Current Mood:

tired

Current Music:

Bleach OST
Makes 4 Lime and Chipotle Chicken Breasts
Prep Time
: 10 minutes
Cook Time:
15 minutes
Total Time:
25 minutes
Ingredients:
4 boneless skinless chicken breasts
1/4 cup fresh lime juice
1/4 cup orange juice
1 clove garlic, crushed
1 tsp chipotle chili powder
(or to taste)
1/2 tsp salt
1 tbsp vegetable oil
Preparation:
Add all the ingredients to a mixing bowl and mix well. Marinate in fridge for 30 minutes.
Remove the chicken from the bowl and reserve the marinade. Pre-heat a non-stick sauté pan on med-high heat. Add the oil and sauté the chicken breasts for 5-7 minutes per side, until almost cooked through. Add the marinade and cook for 2-3 minutes to reduce the sauce. Serve the chicken breasts with the reduced marinade poured over the top.
Rating:

This recipe is one of my new favourites. It's nice and spicy, for those who like it hot, like me. Those who don't like spicy foods should steer clear (or add considerably less chipotle powder)! It's hot! When I made it I couldn't reduce the marinade because I had to cook the chicken for longer than it said due to the thickness of the chicken breasts (try as I might, I couldn't get any smaller ones!), so the marinade burnt onto the pan (left for a messy clean up, but it was worth it!).
Current Location:

Home Sweet Home

Current Mood:

relaxed

Current Music:

The sound of my buddy on skype
I was looking to pick up some new ice cream at the store the other day, and of course I LOVE Ben & Jerry's (Who in their right mind DOESN'T??). I saw that they had some new flavours. Red Velvet Cake, Boston Cream Pie, and Late Night snack were the ones that caught my eye. I was really iffy about Late Night snack; it's "vanilla bean ice cream with a salty caramel swirl and fudge covered potato chip clusters."
I was really unsure about it, and ended up picking up the Fudge Brownie Low Fat Frozen Yogurt, cause I felt like being healthy. . . But I talked about it with my mom a bit on the way home, and she pointed out that it COULD be really good, considering that things that combine salty and sweet can be amazing. Then I considered B&J's Chubby Hubby, which is vanilla bean ice cream with fudge and peanut butter swirls with peanut butter filled fudge covered pretzels, and is possibly one of the yummiest things I've ever eaten. So when I went back to the store yesterday, I picked up a container.
When I got home, of course I tried it right away. I was a little bit nervous, mostly about the potato chip clusters, cause I had read somewhere a while back that fudge covered potato chips are hideous. . . They lied. Oh how they lied. This ice cream may be my new favourite ice cream o.o The vanilla bean ice cream has always been my favourite of B&J's, and the caramel swirl isn't overly salty, but it's just salty enough. The potato chip clusters are amazing, just flat out. Perfect combination of salty and sweet , and they taste great with the ice cream.
Overview:
Rating:

Recommendation:
Go get some. Now.
Technically this is yesterday's discovery, but whatever xD
Current Location:

Home Sweet Home

Current Mood:

excited

Current Music:

Depeche Mode - Sister of Night


For the past few weeks I've been trying to try a new recipe at least once a week. Some are good, and some are bad, and I'll be posting the good ones here! I'll also post some things about my favourite restaurants, and great food products I buy. I'll also point out things to steer clear of, and maybe even little snippets about products I've tried in the kitchen, and you may even get to hear some of my harrowing kitchen adventures (*oooh, ahhh*)!

Other than being an avid Foodie, I'm also an artist, writer, and aspiring student!

Enjoy~
Welcome to my food blog! I decided to start this blog because I love to cook, and I love food in general. I find some pretty great stuff out there, including great recipes and great restaurants, and I wanted to share them with the world!
Current Location:

Home Sweet home

Current Mood:

cheerful

Current Music:

The sound of my dog running around upstairs